For a guy who lives on his own, I have next to zero concerns since I'm not paying for my residence at all. But I do have to pay for gas, phone, credit card, food, and things like that. I also owe my sister money for the car I bought. Yet I gave my money to the Lord, trusting that he'd provide for me, and thus I was left without enough money this month to pay for the few bills I owed, and I started wondering if I was going to last. However, dad just now gave me $300.00 and I never saw it coming. I thought the Lord deserved credit for that, so I'm posting it here. He's a reliable fellow and I'm thankful for it!
AND NOW IT'S TIME FOR A MUSIC LIST!
Last night on TV I saw one of my F*refly coworkers sing the National Anthem at a basketball game and I started thinking, "If I went to a game, who would I want to hear sing the National Anthem?" Hence this list. Rating is based off of the singer's voice since there's a large vocal range in the National Anthem and it's usually a solo thing with no backing music.
#30 Zack de la Rocha from Rage Against The Machine
He's not much of a singer but I do like his voice. He could rap/monologue/shout the anthem, heh.)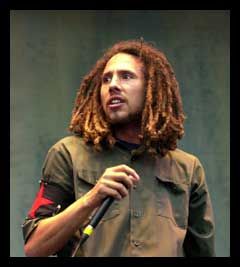 #29 Kurt Cobain from Nirvana
(he's...not available though)
#28 Wayne Coyne from The Flaming Lips
(he'd be weird.)
#27 Aaron Gillespie from UnderØATH
#26 Alex Kapranos from Franz Ferdinand
#25 James Hetfield from Metallica
#24 Björk Guðmundsdóttir
(This one is for Kristen)
#23 Ben Kowalewicz from Billy Talent
(he'd be weird too.)
#22 Thom Yorke from Radiohead
(oh wait, they already covered that...)
#21 Lacey Mosley from Flyleaf
(this one's embarrassing.)
#20 Jeremy DePoyster from The Devil Wears Prada
#19 Jack White from The White Stripes
#18 Regina Spektor
#17 Cove Reber from Saosin
#16 Andrew Bird
(I'd rank him better on the list if he could bring his instruments and loop pedals along)
#15 Mike Herrera from MxPx
#13 Eugene Hütz from Gogol Bordello
#14 Tom Waits
#12 Fabio Lione from Rhapsody of F*re
#11 Win Butler from The Arcade F*re
#10 Nathan Willett from Cold War Kids
#9 Craig Owens from Chiodos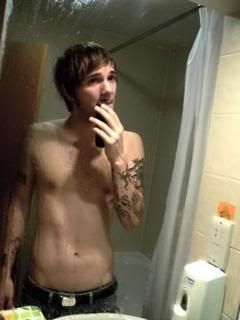 #8 Christian Lindskog from Blindside
(especially if he's allowed to scream)
#7 Reese Roper from Five Iron Frenzy
#6 Dustin Kensrue from Thrice
#5 John Cooper from Skillet
(sorry, Andrew)
#4 Dave King from Flogging Molly
#3 Till Lindemann from Rammstein
(oh creepy creepy)
#2 Matt Bellamy from Muse
(especially if he can bring his guitar/piano)
And the number one person I'd most want to hear sing the National Anthem is...
#1 Colin Meloy from The Decemberists!